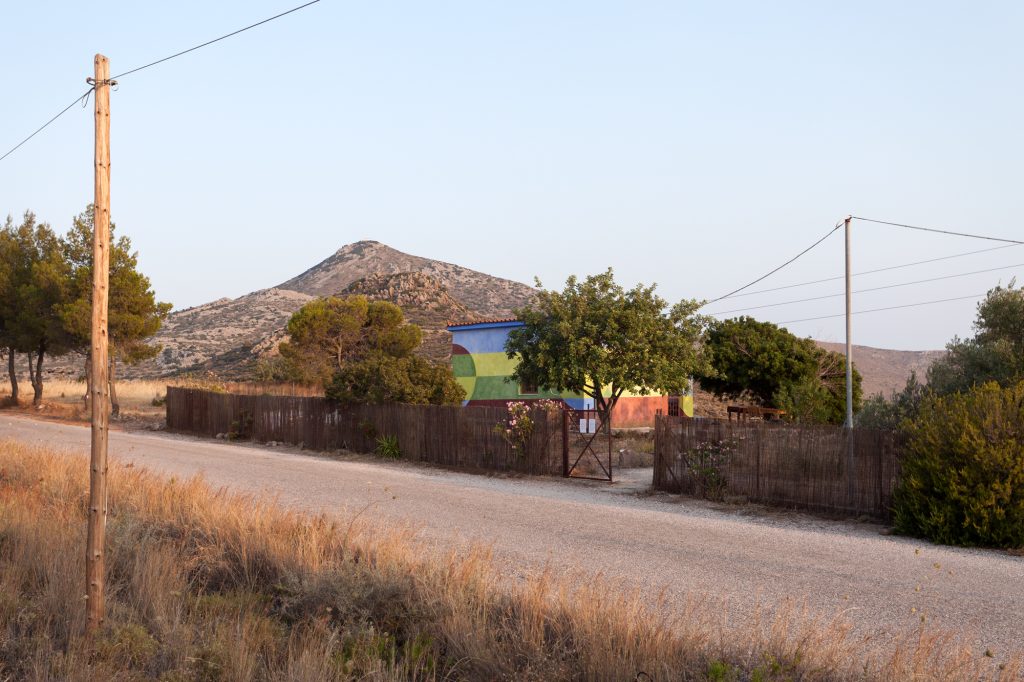 Thinking Like A Mountain
(Towards a council of All Beings)
2023
Wall painting with mineral paint
By Navine Dossos and Danae Tsakona
This wall painting is called Thinking Like a Mountain (2023) and has been painted by the artist Navine Dossos, with the assistance of Danae Tsakona. It is named after an important book by John Seed and Joanna Macy, that contains readings, meditations and rituals to help us remember that environmental defence is nothing less than self-defence. It helps us experience our place in the web of life, rather than on the apex of some human-centred pyramid.
This wall painting is inspired by the colours of the landscape – the blue of the sky, the greens of pistachios and olives, the red of the stone and the brown of the clay. The sun and the moon cycle around the house. There is the stillness of deep time and the movement of the four winds that blow around it.
This house is owned by artists James Bridle and Navine Dossos and over the next few years it will develop into a home and studio built with environmental consciousness, and a deep care for this beautiful landscape of Aegina. 
All documentation photography by Yiannis Hadjiaslanis.