SUPER KIOSK
2023
8th Thessaloniki Biennial for Contemporary Art
Super Kiosk is a platform for education, discussion, and refreshment. Constructed from recycled materials as a standalone structure within the Islahane Culture Centre, Super Kiosk is based on the beliefs that anyone can learn how to design and build new structures and new technologies; that new approaches are needed to face the ecological and political situation we face; and that such approaches emerge from collective education and knowledge-sharing.
Super Kiosk was designed and constructed by James Bridle, Navine G. Dossos, and a team of students from the architecture department of the University of Thessaloniki. A one-week workshop included an open-ended design process, collaborative construction, and co-education in tools, techniques, and renewable energy design, as well as the planting of a biodiverse garden of endemic Greek medicinal plants on the site. Super Kiosk is constructed entirely from reclaimed wood sourced from construction sites, and includes simple DIY technologies for solar power generation, water collection, and purification. An on-site library gives more information about the design and construction process, as well as the influences behind it. A tea service designed by the artists provides the opportunity for visitors to drink traditional mountain teas while resting and researching.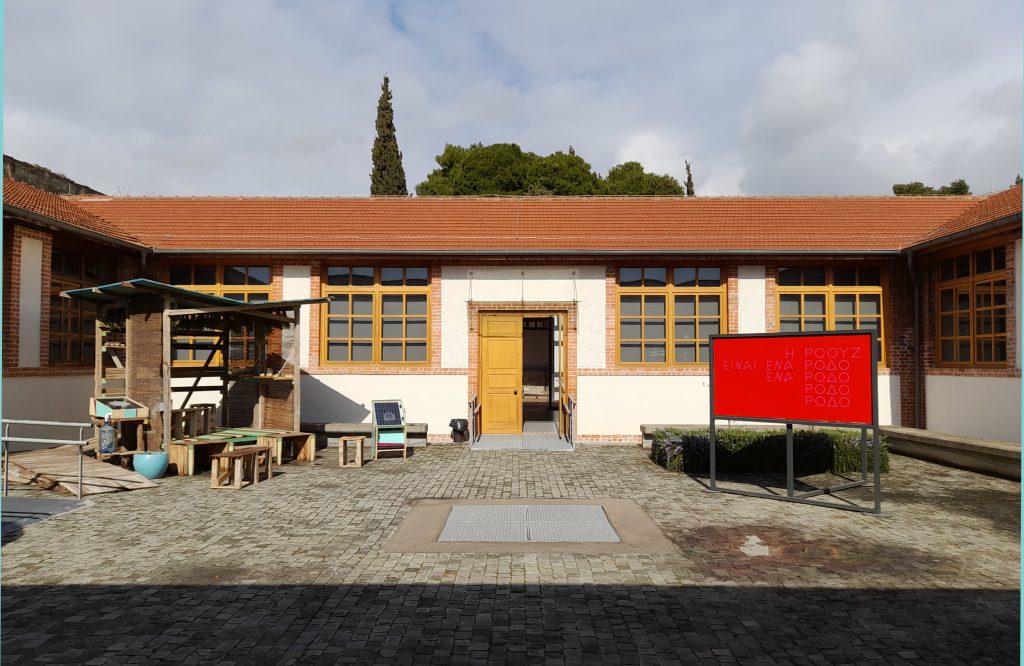 Super Kiosk brings together a number of ecological technologies which are simple to use, understand, and recreate. Inspired by the work of Ken Isaacs, Enzo Mari, Walter Segal, Margarete Schütte-Lihotzky, and others, Super Kiosk updates their ideas for modular, amateur, and self-build structures to include renewable energies, circular material economies, and regenerative relationships. For the artists, this philosophy of DIY making and collective agency-building is critical to engaging with a turbulent and uncertain future.
Super Kiosk is constructed at the Islahane Cultural Centre, the historical site of an Ottoman-era orphanage and technical school, with a long history from the late 19th century to the present. Although primarily for Muslim orphans, the Islahane also housed boys from the Greek, Armenian and Jewish communities who were trained together in new skills in agriculture, industry and print-making. The Islahane was itself part inspired by the example of the Kapodistrian orphanages, founded by the early Greek state, of which a prominent example remains on the island of Aegina, where Vessel, a self-organised artist-run studio, was established in 2021.
For the Biennial, Vessel is honoured to reactivate the Islahane as a site for practical work and learning relevant skills for a new age.
Vessel (Navine G. Dossos and James Bridle) with the participation of: Kalypso Theodoropoulou, Giannis Iakovakis, Maira Konstantinidou, Theodora Vassileiadou, Evgenia Malamoglou, Adriana Donca, Danai Eleni Paulidou, Natalia-Lydia Papadantonaki, Leda Demetriadou, Andreas Pantelakis, Dimitris Athanasiou, Katerina Perdikouri-Papadopoulou, Triada Panayiotidou, Giannis Petridis, and thanks to Maria Vincentelli, Despoina Thomaidou, Themis Lakkas, Areti Kondylidou and the staff of the Islahane Cultural Centre, Apostolos Kalfopoulos, Theodora Chorafa, Nikos Thymakis, The Balkan Botanic Garden of Kroussia, Onassis AIR, Alex Bank, Christos Thomaidou, Daphnis and Chloe, Kevin Dibb and Zoi Mostokou